Picture Perfect Holiday Gifts a Snap With High-Quality Framed Artwork From Any Smartphone or Digital Photo
SnapBox Adds Cropping, Photo Filters and Easy Ordering via Its Web Site; Turns Instagram Photos Into Memorable and Personal Gifts of Framed Artwork for Less Than $10
(December 10, 2012)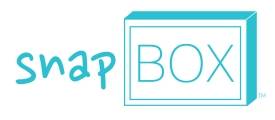 ANAHEIM, CA -- (Marketwire) -- 12/10/12 -- For a gift that is both personal and affordable this holiday season, consumers need look no further than their smartphone or digital camera to transform their favorite photos into stunning high-quality framed prints. SnapBox (snapboxez.com) makes it easy for consumers to create and order framed museum-quality stretched canvas prints from their own photos starting at less than $10, a perfect holiday gift for friends and family.
Just in time for the holidays, SnapBox today launched several new features that enable consumers to further customize their framed canvas prints. Consumers can crop and rotate their SnapBox photos, and also apply eight different photo filters for added impact, including Black & White, Sepia, Storm, Sunkissed, Classic, Lomo and Vintage.
"Personalized gifts are always appreciated and a SnapBox print is a true photo giclée museum-quality wrapped canvas print that family and friends will be proud to display in their home or office," said John Doe, CEO of Jondo-USA, creator of SnapBox. "Not only are SnapBox prints stunning works of art, but they make a holiday shopping a breeze because they are so easy to order -- anytime, anywhere."
To make holiday gift giving even easier, SnapBox products can be shipped to selected recipients or picked-up and paid for by the consumer at 8,000 retail locations, including CVS/pharmacy and Bartell Drugs, with free shipping to those locations. Consumers can order their SnapBox prints by emailing photos to snapbox@snapboxez.com, from any iPhone, Android, or BlackBerry smartphone or any Tablet or PC, or can now order via the snapboxez.com web site.
SnapBox framed prints for smartphone photos and digital camera photos are available in a choice of multiple sizes at special 2012 holiday prices ranging from $9.79 to $24.49. The sizes include a 5x5, 5x7, 8x10, 10x13, 9x9, with the 5x5 and 9x9 square SnapBox prints ideal for Instagram photos. To get SnapBox framed prints by Christmas, consumers need to place their SnapBox order by Dec. 17th.
From Jondo-USA, the market leader in high-quality personalized photo and décor products,
SnapBox framed prints optimize smartphone photos for the best quality image. Delivering the highest quality framed prints, SnapBox uses Jondo's state-of-the-art 'droplet on demand' archival pigmented ink, capable of reproducing more than 36 million unique possible colors. All images are printed on stretched canvas -- a high-quality poly cotton blend made exclusively for Jondo.
To order a SnapBox framed print, consumers can visit the web site, www.snapboxez.com to upload and order. Alternatively, they can email their selected photo to snapbox@snapboxez.com. A response email arrives in minutes allowing consumers to preview their SnapBox photo, select and order different sizes. SnapBox framed print orders are completed and delivered in a few days from one of Jondo's state-of-the-art production facilities in Anaheim, Seattle or Albany, NY.
About Jondo-USA
With decades of experience in fine art reproduction, proprietary digital workflow, and ongoing investments in lean manufacturing practices, Jondo-USA is a market leader in providing both superior product quality and exceptional price value. Jondo began in 1989 as Harvest Productions, utilizing state of the art IRIS technology to reproduce artists' watercolor
paintings. The business grew, based on innovations in print technology, and the company is recognized as an early developer of high resolution input, edit, and output workflows. Jondo-USA is extending its product offerings to consumers with the goal of enhancing the consumer experience through unique and affordable photo décor products, easy online access, and quick regional manufacturing/fulfillment centers.
Add to Digg Bookmark with del.icio.us Add to Newsvine
For more media information, contact:
Lisa Hendrickson
Commstrat
Email Contact
516-643-1642


Copyright @ Marketwire
Page: 1
Related Keywords:
SnapBox, Home, Camera, Displays, Family, Internet, Digital Camera, Family, Communications, Digital Photography, Digital Audio, Web, Smart Phone, PDA, Cameras, Technology, iPods, iphone, Filters, Family, Images, EMail, Manufacturing, Manufacturing/Production, Shipping & Receiving, Manufacturing, Internet, Post/Production, Display, Camera/Film, Prosumer/Consumer, Business, Digital Still Camera, Handheld PC/PDA, PDA/Smartphone, email, Marketwire, Apple Computer, Shipping, Internet Technology, Business, Email, Family,
Related Sites:
Related Newsletter:
---