Worldwide Flexible Printed Circuit Boards Market is Expected to Increase at a CAGR of 11.0% by 2025: Increasing Demand for Consumer Electronics to Boost Demand, Says TMR
Hyperdynamics to Reconvene Annual Stockholders Meeting on April 19
HOUSTON
,
March 24, 2017
/PRNewswire/ -- Hyperdynamics Corporation (OTCQX: HDYN) announced today that the Annual Meeting of Stockholders that was adjourned on
February 27, 2017
will be reconvened on
Wednesday, April 19, 2017
at
10:00 a.m. Centra.....

...Read More »



OPTASY Listed as a Leading Web Development Company by CLUTCH
Toronto, Ontario (PRWEB) March 24, 2017
...Read More »

"You're Welcome" Music Video From The "Moana" Original Motion Picture Soundtrack Debuts Today On VEVO
BURBANK, Calif.
,
March 24, 2017
/PRNewswire/ -- Oscar®-nominated, Tony®-, Emmy®- and Grammy®-winning songwriter/composer
Lin-Manuel Miranda
and Hollywood Records artist
Jordan Fisher
are featured in the music video for "You're Welcome." Shot on location in
...Read More »
3D Display Market: Industry Analysis, Size, Share, Growth, Trends and Global Forecast by 2027
Market Scenario:
The major growth driver of 3-D Display Market includes growing adoption of 3-D display among organ...
...Read More »
NeWFAM Entertainment CEO Q Parker, of mega group 112, Inks Deal with RED Distribution
New York, NY (PRWEB) March 24, 2017
...Read More »

Book Unravels One of Humanitys Greatest Migrations
KAILUA-KONA, Hawaii (PRWEB) March 24, 2017
...Read More »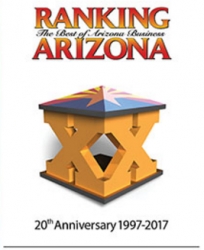 Transcend Security Receives Significant Honor for 2017 from Arizona Big Media
In addition to recent recognition for their remarkable growth, the Phoenix-based contract security firm is again recognized for the security services they provide.
...Read More »
The Elimination Challenge Sends Another Competitor Home on MASTERCHEF CANADA
Winnipeg, Man.'s Jordan Levin exits the MASTERCHEF CANADA Kitchen after presenting an underwhelming take on Mary Berg's tuna casserole
On the next episode of MASTERCHEF CANADA, the remainin..... ...Read More »

Idea Design Studio Chosen to Appear on Global Television Show, Worldwide Business with Kathy Ireland®
Phoenix Rising FC March 25 Home Opener is SOLD OUT
PHOENIX
,
March 23, 2017
/PRNewswire/ -- Today, Phoenix Rising FC announced that its
March 25
Inaugural Season home opener against Toronto FC II has been sold out.  All 6,200 seats and luxury suites in the new, Phoenix Rising FC Soccer Complex Stadium officially sold out at
.....

...Read More »



AJA HELO Simplifies Streaming and Recording for Media Apex Productions Live Event Productions
From Reggae on the River to the Enchanted Forest Gathering, live streaming has become a new norm on the music festival circuit, opening up doors for Humboldt, CA-based video production company Media Apex Productions whose sweet spot is multi-camera live production. With a full project slate planned for the year spanning music festivals and other events that require live streams and archives, the company recently updated its workflow with an AJA HELO for H.264 streaming and recording.
...Read More »
Viaccess-Orca Partners With Encoding.com to Boost the Efficiency of OTT Media Processing Via the Cloud
Viaccess-Orca, a global leader in the protection and enhancement of content services, and Encoding.com, the world's largest and most trusted cloud-based video processing service for the media and entertainment market, have partnered to streamline the preparation of VOD content for OTT multiscreen applications. Viaccess-Orca's cloud-based TV Everywhere as a Service (TVaaS) is now integrated with Encoding.com's cloud media processing platform, enabling pay-TV operators to quickly prepare and manage video content for multiscreen viewing from a single pane. The joint solution can be fully managed in the cloud, with monitoring and control enabled by the operator for increased efficiency, speed, flexibility, and scalability.
...Read More »
Tom Marks, Rerecording Mixer, Chooses NUGEN Audio's Halo Upmix and MasterCheck Pro for Popular Series 'Sense8'
NUGEN Audio today announced that renowned rerecording mixer Tom Marks is using NUGEN Audio's Halo Upmix and MasterCheck Pro on the mix for the hit Netflix series "Sense8," which just wrapped production of its second season.
...Read More »
Big Path Capital Announces 8th Annual Impact Capitalism Summit: The Largest Gathering of Family Offices and Institutional Investors Focused on Impact
CHICAGO
,
March 23, 2017
/PRNewswire/ -- Heralded as the "
Davos
of Impact Investing,"
Big Path Capital
, a boutique financial services firm focused on impact, today announces its 8th annual
...Read More »
New Markets Tax Credit Briefing Demonstrates Credit's Success in Rural and Urban Communities
WASHINGTON
,
March 23, 2017
/PRNewswire-USNewswire/ -- The NMTC Coalition hosted a briefing on Capitol Hill yesterday to share information on the impact of the
New Markets Tax Credit
(NMTC) in rural and urban comm.....
...Read More »
HOT THREADS
on DMN Forums