Honor 10 Global Theme Design Contest Officially Commences Today
BEIJING
,
May 25, 2018
/PRNewswire/ -- The Honor 10 Global Theme Design Contest formally
started on
May 25th
, inviting designers from all around the world to send in their thematic interface designs. The contest provides a stage for the world's most talented theme .....
...Read More »
The 3D Action Adventure Game "Dragon Ball: The Strongest Warrior" Was Officially Announced Today
In terms of gameplay, "Dragon Ball?The Strongest Warrior" is quite different from the previous card and turn-based mode, it has been definitely confirmed as a 3D action...
...Read More »
BYUtv Begins Production on Original Scripted Adventure Comedy Series "DWIGHT IN SHINING ARMOR"
PROVO, Utah
,
May 24, 2018
/PRNewswire/ -- 
BYUtv
, a family entertainment network, today announced the start of production for its original scripted adventure comedy series, "Dwight in Shining Armor," slated to premiere in 2019.
Sloane Mo.....

...Read More »



Evolution AI Corporation Strengthens Offer to Purchase Pulse Evolution shares for $1.10 per Share; Announces Public Information Conference Call
HOBE SOUND, Fla.
,
May 24, 2018
/PRNewswire/ -- Evolution AI Corporation today reiterated its offer to purchase unrestricted, 'public float' shares in Pulse Evolution Corporation (OTC:PLFX), at
$1.10
per share, in registered and freely marketable share consideration or, subject to market conditi.....
...Read More »
3D Printing: Automotive Additive Manufacturing Market Report 2018-2028 - Visiongain Report
Wamba Technologies Gives Dream Job to Lucky GCU Student
PHOENIX
,
May 23, 2018
/PRNewswire-PRWeb/ --
Scottsdale's
Wamba Technologies is an up and coming eSports company featuring an impressive lineup of talent.
Andy Ashcraft
(God of War 2, God of War 3, Grand Turismo 4) and
Brian Upton
(.....
...Read More »
Top Industry Magazines Highlight Hypower's Industry-Leading Approach to Technological Innovation
FORT LAUDERDALE, Fla.
,
May 23, 2018
/PRNewswire-PRWeb/ -- 
Hypower
, a leading electrical and utility contracting firm, is pleased to announce that it was recently featured in the
May 2018
editions of Business Chief and Constr.....
...Read More »
Adaptive Insights Launches Customer Journey Program to Lead Companies in New Era of Companywide Planning
LAS VEGAS
,
May 23, 2018
/PRNewswire/ -- Adaptive Insights, powering a new generation of business planning, debuted a new customer program to lead organizations of all sizes on their journey to transform planning into a strategic advantage. Showcased here, at
...Read More »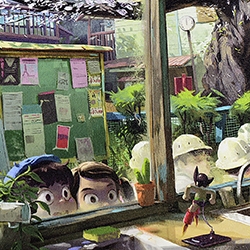 Now on Kickstarter: Spring in Sakuragaoka, an Original Work of Art by Award-Winning Kick-Heart Anime Background Artist, AYMRC
Well known for his collaborations with award-winning director and animator, Masaaki Yuasa, AYMRC's pop-anime-style artwork now enters the puzzling world.
...Read More »
QMC Hires SGS Canada for Resource Estimate
VANCOUVER, British Columbia
,
May 23, 2018
/PRNewswire/ -- 
QMC Quantum Minerals Corp.
(TSX.V: QMC) (FSE: 3LQ) (OTC PINK: QMCQF) (
QMC.V
) ("
QMC
" or "the Company") is pleased to report that it has engaged SGS Canada Inc. ("SGS") to provide technical support and consulting services for the company's 201.....
...Read More »
Scania: Commercial Transport can be Fossil-free by 2050
SÖDERTÄLJE,
Sweden
,
May 23, 2018
/PRNewswire/ --
A fossil-free commercial transport system in the timeframe of the Paris Agreement target is not only possible, but also financially attractive from a societal perspective. This is the key conclusion of a study initiated by Scania.
...Read More »