FilmL.A. Updates Annual Study of Television Pilot Production
LOS ANGELES
,
July 7, 2015
/PRNewswire/ --FilmL.A., the not-for-profit film office serving the
Greater Los Angeles
region, today announced the release of a new report prepared by its research division.
...Read More »
B4U Television Network India Transforms Playout Operations With Next-Generation Solution From Amagi
Amagi, a leader in cloud-based broadcast infrastructure and targeted TV advertising, today announced that B4U Television Network India, one of the foremost Asian channels to pioneer Bollywood and Indian entertainment worldwide, has selected Amagi's CLOUDPORT 2.0 to improve the playout of its popular TV channels in India -- B4U Movies and B4U Music. Through its flagship channel playout platform, Amagi provides B4U Television Network with end-to-end cloud-based playout services leveraging satellite distribution from AsiaSat, Asia's premier satellite operator. B4U Television Network India utilizes a range of services provided by Amagi, which includes playout, 24/7 monitoring, conditional access, and measurement systems.
...Read More »
WCPE FM Celebrates Bastille Day
Wake Forest, N.C. (PRWEB) July 07, 2015
...Read More »

Kung Fury: The Coolest Short Film of All Time
After just two weeks, Kung Fury has garnered over 16 million views on youtube and made IMBD's Top 500 list almost instantaneously. Kung Fury's incredible success stems from its equally incredible visual effects including flying cars, explosions, half-dinosaur cops, and more, with the help of Red Giant plugins.
...Read More »
3Zero2 TV Chooses AVIWEST Solutions With Ka-Sat Bonding Technology for Live HD Streaming of Football Matches
AVIWEST, a global provider of video contribution systems, today announced that Italian television production and services provider 3Zero2 TV has deployed 50 units of the company's DMNG PRO180-RA video uplink solutions to deliver live video transmissions for the Lega Pro football league coverage. The project was supported by Comsytec, AVIWEST's Italian distributor and system integrator. Featuring a portable design, AVIWEST's digital mobile newsgathering solution allows 3Zero2 TV to broadcast live HD video efficiently and cost-effectively over two bonded Ka-band satellite links.
...Read More »
AVIWEST MEDIATECH AFRICA 2015 EXHIBITOR PREVIEW
At Mediatech Africa 2015, AVIWEST, a global technology provider of video hybrid contribution systems, will demonstrate new enhancements to its Digital Mobile News Gathering (DMNG) system, which has been widely deployed by tier-1 broadcasters in Africa.
...Read More »
Thomson Video Networks Partners With Dolby Laboratories and STMicroelectronics to Demonstrate HEVC Delivery With the Dolby AC
Thomson Video Networks has recently partnered with Dolby Laboratories and STMicroelectronics (ST) to demonstrate the first implementation of a complete encoding-decoding chain for HD and Ultra HD broadcast based on the new Dolby AC-4 audio codec. At the heart of a demonstration at the Dolby ATSC 3.0 showcase in Atlanta sits Thomson Video Networks' award-winning ViBE® VS7000 multi-screen encoding/transcoding platform and the ST Ultra HD STiH418 System-on-Chip (SoC).
...Read More »
CBM-TEC here to stay ? says Zambian mining expo director
"Sponsoring the Zambian Mining Woman of the Year and Mining Personality of the Year at the Chamber of Mines of Zambia?s inaugural awards we are showing that CBM-TEC is here to stay and part of this country?s mining growth and future" ? so says Nicole Smith, event director of the annual Copperbelt Mining Trade Expo & Conference (CBM-TEC) hosted exclusively within the city of Kitwe on the Copperbelt.
...Read More »
Colorfront Transkoder Certified for Dolby Atmos
Colorfront Transkoder, the automated, standalone system for high-quality digital file conversion, has been certified by Dolby Laboratories for the creation of Dolby Atmos Digital Cinema Packages (DCPs).
...Read More »
Pongo Names Ron Pomerantz Vice President, Content & Strategy:
Pongo, a multi-award winning creative marketing agency for entertainment industry clients currently celebrating its 25th anniversary, has named Ron Pomerantz its new Vice President, Content & Strategy. Pomerantz joins Pongo from Disney Channel, where he had been Vice President, Marketing & Creative.
...Read More »
Inbal Amirav Sizzles in New Amanda Keidan Campaign
LOS ANGELES
,
July 7, 2015
/PRNewswire/ -- The smoldering black-and-white shots, lensed by
Jacob Swanson
and
Amber Cruse
, showcase Amirav's top-notch ability to express depth with a captivating gaze.
...Read More »
Crystal Hunt Earns Featured Role in Magic Mike XXL
LOS ANGELES

,

July 7, 2015

/PRNewswire/ --

Crystal Hunt

has graced daytime television as

Stacy Morasco

in

One Life

to Live

and

Lizzie Spaulding

on

Guiding .....

...Read More »



Breaking Tech News: Wocket Smart Wallet (NasdaqCM: NXTD) Commercials Airing on CNBC to Showcase This Summer's Must- Have Tech Product
OXFORD, Conn. - July 7, 2015 (Investorideas.com Newswire) NXT-ID, Inc. (
NASDAQ: NXTD
;
...Read More »
Award-Winning Marketing Agency Create Advertising Group Launches New Virtual Reality Division CreateVR
CULVER CITY, Calif.
,
July 7, 2015
/PRNewswire/ --
Create Advertising Group
, one of the world's most accomplished and specialized boutique creative services agencies, has launched a new division CreateVR, dedicated.....
...Read More »
Youth Mental Health: Canamedia and Partners Create First-of-its-Kind Program "Teens 101" to Help Young Canadians Get Back on Track
C

anada's recent Mental Health week inspires a collaborative initiative to promote the mental health and well-being of Teens by empowering them through interactive, multi-platform programs
...Read More »
Bounce TV Pulls Cosby Series
ATLANTA
,
July 7, 2015
/PRNewswire/ --
Bounce TV
will cease airing the television series
Cosby
effective immediately.
...Read More »
Alan Mruvka, Founder Of E! Entertainment Television, Launches StorageBlueTV
NEW YORK
, July 7,2015 /PRNewswire/ --
Alan Mruvka
, the founder of E! Entertainment Television, recently launched his newest venture,
StorageBlue
, a new self-storage company with four locations already open in
New Jersey
, and plans to expand nationwide. Since opening StorageBl.....
...Read More »
Superior Court Judge Upholds Labor Commissioner's Decision That Truck Driver Was Misclassified as Independent Contractor
LOS ANGELES
,
July 7, 2015
/PRNewswire-USNewswire/ --A Superior Court judge last week sided with the Labor Commissioner's Office in finding that a
Los Angeles
trucking company misclassified an employee as an independent contractor. The court affirmed that Laca Express Inc. owes driver
...Read More »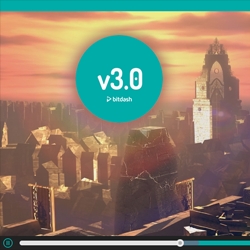 bitdash 3.0 – Added Support for Apple HTTP Live Streaming (HLS) and a New Reduced Price
bitmovin released bitdash 3.0 and enables Apple HLS Streaming in the third major release of bitmovin's HTML5 and Flash video player. bitdash 3.0 supports Apple HTTP Live Streaming (HLS) natively, which means that the HLS support is not bounded to Apple devices anymore and can be used on any web browser.
...Read More »
Splash Media Selected as Multiple Winners in the 36th Annual Telly Awards
Addison, TX (PRWEB) July 07, 2015
...Read More »