Mallinckrodt plc To Report Earnings Results For First Quarter Of Fiscal 2017
STAINES-UPON-THAMES,
United Kingdom
,
March 24, 2017
/PRNewswire/ -- 
Mallinckrodt Pharmaceuticals
(NYSE: MNK), a leading global specialty pharmaceutical company, announced today it will report fiscal 2017 first quarter earnings results for the period of .....
...Read More »
Hyperdynamics to Reconvene Annual Stockholders Meeting on April 19
HOUSTON
,
March 24, 2017
/PRNewswire/ -- Hyperdynamics Corporation (OTCQX: HDYN) announced today that the Annual Meeting of Stockholders that was adjourned on
February 27, 2017
will be reconvened on
Wednesday, April 19, 2017
at
10:00 a.m. Centra.....

...Read More »



HUDWAY DRIVE: HUDWAY Joins the Aftermarket Head-up Display Market Competition
Los Angeles, CA (PRWEB) March 24, 2017
...Read More »

United Country Real Estate Offices Achieve Record Sales Growth in 2016
Kansas City, Mo. (PRWEB) March 24, 2017
...Read More »

2017 iaedp Symposium Sets All-Time Attendance Record
(PRWEB) March 24, 2017
...Read More »

Fang Holdings Limited to Report Fourth Quarter and Full Year 2016 Financial Results on March 31, 2017
BEIJING
,
March 24, 2017
/PRNewswire/ -- Fang Holdings Limited (NYSE: SFUN
) (
"Fang" or "we"), the leading real estate Internet portal in
China
, today announced that it will report its unaudited financial results for fourth quarter and full year 2016 before the U......
...Read More »
Matomy Media Group Announces 2016 Financial Results
LONDON
and
TEL AVIV, Israel
,
March 24, 2017
/PRNewswire/ -- Matomy Media Group Ltd. (LSE: MTMY, TASE: MTMY.TA) ("Matomy" or the "Company"), a global media technology company, today announced its financial results for the twelve-month period ended
December 31, 2016
.....
...Read More »
Author John Miller?s Newly Released ?The Communion of Saints: A Pastors Potpourri of Parishioners is a Series of Short Stories Celebrating the Saints Met Every Day.
(PRWEB) March 24, 2017
...Read More »

Author David Laegers Newly Released ?Vintage and Harvest: A Cultivation of Christian Love is a Beautiful and Powerful Exploration of Gods Love.
(PRWEB) March 24, 2017
...Read More »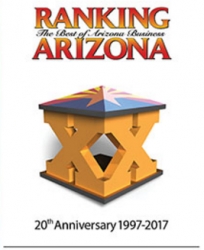 Transcend Security Receives Significant Honor for 2017 from Arizona Big Media
In addition to recent recognition for their remarkable growth, the Phoenix-based contract security firm is again recognized for the security services they provide.
...Read More »
Idea Design Studio Chosen to Appear on Global Television Show, Worldwide Business with Kathy Ireland®
Viaccess-Orca Partners With Encoding.com to Boost the Efficiency of OTT Media Processing Via the Cloud
Viaccess-Orca, a global leader in the protection and enhancement of content services, and Encoding.com, the world's largest and most trusted cloud-based video processing service for the media and entertainment market, have partnered to streamline the preparation of VOD content for OTT multiscreen applications. Viaccess-Orca's cloud-based TV Everywhere as a Service (TVaaS) is now integrated with Encoding.com's cloud media processing platform, enabling pay-TV operators to quickly prepare and manage video content for multiscreen viewing from a single pane. The joint solution can be fully managed in the cloud, with monitoring and control enabled by the operator for increased efficiency, speed, flexibility, and scalability.
...Read More »
Quantum Releases Purpose-Built 4K Video Reference Architectures to Deliver Industry-Best 4K Stream Counts and Performance
Quantum Corp. (NYSE: QTM) today announced purpose-built 4K video reference architectures that leverage the company's StorNext®-powered, disk- and flash-based workflow storage systems to maximize 4K stream counts and optimize performance levels in accordance with users' specific needs. Based on exhaustive testing with real-world metrics, the new reference architectures reinforce Quantum's long-standing position as the performance leader in media workflows and empower media facilities to make better-informed investments in 4K storage infrastructure.
...Read More »
Tom Marks, Rerecording Mixer, Chooses NUGEN Audio's Halo Upmix and MasterCheck Pro for Popular Series 'Sense8'
NUGEN Audio today announced that renowned rerecording mixer Tom Marks is using NUGEN Audio's Halo Upmix and MasterCheck Pro on the mix for the hit Netflix series "Sense8," which just wrapped production of its second season.
...Read More »
Navibees Is Now The Leader in Mena For Indoor Navigation Systems
Jeddah -
NaviBees, a young fast growing company, has become a favorite among consumers, becoming the leader in indoor positioning systems. Highly popul...
...Read More »
Turkey telecoms market report 2017
LONDON
,
March 23, 2017
/PRNewswire/ -- This country report and accompanying data annex provide a comprehensive overview of
Turkey's
telecoms market, including KPIs and data on subscribers, penetration, revenue and ARPU. The report analyses the strategies of major players in the country's fix.....
...Read More »
HOT THREADS
on DMN Forums