Trident University Names New Leader of its Admissions Department
CYPRESS, Calif. (PRWEB) September 13, 2018
...Read More »

NYC Hot Business Design Trends: Vinyl Signs & Graphics
New York City - Sep 12, 2018 -
Every year the competition in the business design industry just keeps getting tougher and tougher. With new technology, ...
...Read More »
Bloomberg Launches Linked Open Data Website to Help Firms Derive Value and Enterprise-wide Efficiencies
NEW YORK
,
Sept. 12, 2018
/PRNewswire/ -- Bloomberg today announced the launch of Enterprise Access Point, an online Open Data and Linked Data Platform that provides normalized reference, pricing, regulatory and historical datasets for
...Read More »
FASTSIGNS® Recruiting Franchise Candidates At Franchise Expo Midwest In Chicago Sept. 14-15
CARROLLTON, Texas
,
Sept. 11, 2018
/PRNewswire/ -- 
FASTSIGNS International, Inc.
, franchisor of FASTSIGNS
®
, the leading sign, graphics and visual communications franchise, announced today that it will be attending and sponsoring
...Read More »
Vibe HCM Announces General Availability of Progressive Web App Technology in HCM Engagement Platform
DALLAS (PRWEB) September 11, 2018
...Read More »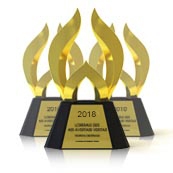 Award Winning Websites Named in 96 Industries by Web Marketing Association
2018 winners of the 22nd annual WebAward Competition for web site development have been announced. Top prizes went to Chris Curd Design Ltd Wins Best of Show for Where Wise Men Fish and TopSpot Internet Marketing was named 2018 Top Agency.
...Read More »
Silk Inc. is an Honoree in Fast Company's 2018 Annual Innovation by Design Awards
BOSTON
,
Sept. 11, 2018
/PRNewswire/ -- Boston-based natural chemistry company Silk Inc. is being honored by
Fast Company
 in its annual Innovation by Design Awards for 2018 in the Fashion and Beauty category. Innovation by Design is the only competition to honor creative work at the intersection of design, business and .....
...Read More »
Robert Z. Hicks's New Release "Danny the Dragon" is an Exciting Children's Story About a Gentle Dragon Who Is Teased for His Kindness--Until He Becomes an Unlikely Hero
MEADVILLE, Pa.
,
Sept. 11, 2018
/PRNewswire-PRWeb/ -- "Danny the Dragon" is a wonderful moral story of courage and gentleness. "Danny the Dragon" is the creation of published author
Robert Z. Hicks
, an award-winning children's book writer and retired speech instructor from the
...Read More »
Introducing TECHZO LLC: Top Rated WordPress Design and Development Company in Chicago, IL
Chicago, IL -
WordPress Website Development Company
TECHZO LLC
is pleased to announce the launch of...
...Read More »
Griffith Institute to Collaborate with Australian Health Manufacturer ATP Science
BRISBANE, Australia
,
Sept. 10, 2018
/PRNewswire/ -- ATP Science Pty Ltd and Research Fellow Dr
Miaomiao Liu
from the Griffith Institute for Drug Discovery have been awarded the Griffith Sciences Industry Collaborative Grant aimed at developing collaborations with industry partners/end-users.
...Read More »
Announcing Marketing Merger & MODintelechy
AUSTIN, Texas
,
Sept. 10, 2018
/PRNewswire-PRWeb/ -- The MOD Studio and Intelechy Group today announced their merger and new business name, MODintelechy. Based in
Austin, Texas
, with satellite offices in
Chicago
and
Denver
, MODin.....
...Read More »
Horoscope Witches: Full Color Art Book Launches on Kickstarter
Independent artist nona has announced an opportunity for lovers of art and illustration to help her create her new full color art book titled Horoscope Witches. Now on ...
...Read More »
Vessels & Void: Pure Silver Vessels by Thalen & Thalen and Abstract Paintings by Amy Kirchner to Debut in Long-Sharp Gallery's New York Project Space
NEW YORK
,
Sept. 7, 2018
/PRNewswire/ -- Long-Sharp Gallery Project Space is honored to kick off its fall season with an exhibit titled
Vessels and Void.  
The exhibit, featuring works by abstract painter
Amy Kirchner
and silversmiths Thalen & Thalen, juxtaposes differing mediums of var.....
...Read More »
KPMG helps to develop first blockchain-based, airline loyalty program 'digital wallet'
SINGAPORE
,
Sept. 6, 2018
/PRNewswire/ - KPMG in
Singapore
has worked with Singapore Airlines (SIA) and Microsoft to develop the first airline loyalty program "digital wallet" based on blockchain technology. SIA announced the launch of the new KrisPay digital wallet following a succes.....
...Read More »
Akshita Kakumanu Reminds Young Readers to Never Give Up
PARKER, Colo. (PRWEB) September 06, 2018
...Read More »

AlphaGraphics Lisle Employee Receives Vital Connection Award For Excellence In Performance
LISLE, Ill.
,
Sept. 5, 2018
/PRNewswire/ -- On
August 4
th
AlphaGraphics, Inc. a global leader in print, marketing, signage and technology solutions, recognized AlphaGraphics Lisle Senior Creative Designer Bailey Kovac with the Vital Connection award for excellence in performance. The aw.....
...Read More »
SureClinical Announces SureCTMS, First Mobile eClinical Trial Management System
RENO, Nev. (PRWEB) September 05, 2018
...Read More »

Design Free Logo Online helping SMBs to boost branding efforts with FREE logo maker
New York, September 4, 2018:
Small businesses and startups struggling with pricey logo design costs can finally heave a sigh of relief...
...Read More »