Outloud Audio Adopts Fortium's MediaSeal File Level Encryption to Meet Heightened Security Threats
Fortium, a leading provider of digital content security solutions for media and entertainment, today announces Outloud Audio, Los Angeles and New York, as a new customer for MediaSeal(r), its file encryption software, which protects unaired TV and movie content at file level during the sensitive stages prior to release. In the current climate of increased concerns over cyber-crime, MediaSeal protects against leaks and accidental distribution by raising studio defences.
...Read More »
Kaleidescape Welcomes Eagle Rock Concert Films to Its Movie Store
SUNNYVALE, Calif (PRWEB) June 26, 2017
...Read More »

Almost Never Films, Inc. Agrees to Finance Portion of Bridge Loan for Feature Film 'Speed Kills' starring John Travolta
LOS ANGELES
,
June 26, 2017
/PRNewswire/ -- Almost Never Films, Inc. (HLWD), a publicly traded independent film company based in
Los Angeles, California
, has agreed to provide a portion of Bridge financing via The Money Pool and Blue Rider San Juan, for the motion picture
Speed Kills
.
...Read More »
Epson Home Cinema 4000 Projector Delivers Unparalleled Combination of Performance and Price to 4K and HDR Market
LONG BEACH, Calif.
,
June 26, 2017
/PRNewswire/ -- Epson, the number-one projector manufacturer in the world, today introduced the
Home Cinema 4000
projector bringing 4K Enhancement Technology
1
and HDR10
2
performance to consumers.....
...Read More »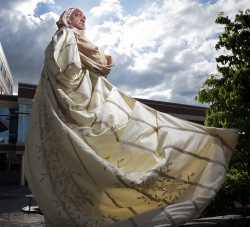 Suburban Oregon Theater Wades Calmly Into the National Shakespearean Fray
In the wake of national controversy around the "politicization" of Shakespeare, specifically reflected in The Public Theater's production of "Julius Caesar," one small, suburban theater company in Hillsboro, Oregon is calmly wading into the fray. Bag&Baggage Productions is presenting a world premiere adaptation of Shakespeare's "Romeo and Juliet" fused with the 12th century Muslim Persian poet Nizami Ganjavi's masterpiece "Layla and Majnun."
...Read More »
A boutique studio Digital Dust from Hungary teams up with a cloud render farm to render a 7 min. long stereo 3D animation
The render farm GarageFarm.NET has recently released a case study featuring the
...Read More »
2017 HPA Lifetime Achievement Award Recipient Named
The Hollywood Professional Association (HPA) has announced that Larry Chernoff has been named 2017 recipient of the prized HPA Lifetime Achievement Award. Chernoff will receive the award during the HPA Awards gala on November 16, 2017, at the Skirball Cultural Center in Los Angeles, California. The HPA Lifetime Achievement Award is given to an individual who is recognized for service and commitment to the professional media content industry. T
...Read More »
Shanghai International Film Festival powered by Christie
SHANGHAI (PRWEB) June 23, 2017
...Read More »

FCPX Plugin Developer Pixel Film Studios releases ProList Corporate
Aliso Viejo, CA (PRWEB) June 23, 2017
...Read More »

LA Film Festival Announces Winners And Thanks Its Generous Sponsors
LOS ANGELES

,

June 22, 2017

/PRNewswire/ -- Today the LA Film Festival, produced by Film Independent, announced the winners of the 2017 Festival at the Awards Reception presided over by Festival Director

Jennifer Cochis

and Film Independent Preside.....

...Read More »



Hockey Sports Agent Daniel Milstein Shares His Secrets of Success in Rule #1 Don't Be #2
ANN ARBOR, Mich.
,
June 22, 2017
/PRNewswire/ -- 
Success is never owned. It's rented, and the rent is due every day.
This is Sports Agent and best-selling author
Daniel Milstein's
personal credo, and what has fueled his do-or-die ability to overc.....
...Read More »
When Faith Meets Hollywood: Pastor Touré Roberts & Sarah Jakes Partner with BET for Celebration of Gospel Live June 25 at BETX
Los Angeles, CA (PRWEB) June 22, 2017
...Read More »

You can now render Eon VUE projects with ease at GarageFarm.NET Render Farm
The GarageFarm.NET Render Farm has recently launched their new
...Read More »
Former Orlando Ballet Principal Dancers Israel Rodriguez and Katia Garza Join Elite Faculty of New Performing Arts Academy in Altamonte Springs
ORLANDO, FL (PRWEB) June 21, 2017
...Read More »

Pixel Film Studios Releases ProGlint for FCPX
Aliso Viejo, Ca (PRWEB) June 20, 2017
...Read More »

Technicolor PostWorks Provides a Colorful "Band Aid" Solution
Released this month by IFC Films, Band Aid marks the directorial debut of Zoe Lister-Jones, best known for her acting roles on Life in Pieces and New Girl. The film has been earning rave reviews for its engaging story of a couple who turn to songwriting to work out their marital difficulties. It has also generated lots of buzz for Lister-Jones's unique decision to employ women in all key production and post-production crew positions. That included Colorist Allie Ames from Technicolor PostWorks New York, who worked with the director and Cinematographer Hillary Spera through editorial conforming and final color grading.
...Read More »
Sony Pictures & Dell Team Up on "Spider-Man: Homecoming" Global Integrated Campaign
ROUND ROCK, Texas
,
June 20, 2017
/PRNewswire/ --  When
Spider-Man: Homecoming
swings into theaters
July 7
, Dell will be at Sony Pictures' side for all the action.
...Read More »
Acclaimed Actor and Tarantino Favorite Michael Madsen, Wraps Production On Adult Film Docu-Series
Hollywood, CA (PRWEB) June 20, 2017
...Read More »

Marc Chu Joins Atomic Fiction as Animation Department Supervisor
Atomic Fiction has welcomed animation guru Marc Chu to lead the studio's animation efforts across its Oakland and Montreal locations. Chu joins Atomic Fiction from ILM, where he most recently served as Animation Director, bringing more than 20 years of experience animating and supervising the creation of everything from aliens and spaceships to pirates and superheroes. Based out of Atomic Fiction's Oakland office, Chu will oversee animation company-wide and serve as the principal architect of initial studio production, including the expansion of Atomic Fiction's previs and digital creature offerings. He's already begun work on "The Predator" and is ramping up activity on an upcoming Robert Zemeckis feature.
...Read More »
HOT THREADS
on DMN Forums