UAE Embassy Honors 50 Years Of Special Olympics Movement During Event At Smithsonian's National Museum of American History
Nine Casinos Petition the Pennsylvania Gaming Control Board to Conduct Interactive Gaming
HARRISBURG, Pa.
,
July 17, 2018
/PRNewswire-USNewswire/ -- The Pennsylvania Gaming Control Board today announced that it has received nine petitions from casino license holders requesting approval to conduct Interactive Gaming (iGaming) in the Commonwealth.
...Read More »
Giant Food Announces Partnerships with Proctor & Gamble, Nestlé and Chobani for Wizards District Gaming
LANDOVER, Md.
,
July 17, 2018
/PRNewswire/ -- Giant Food, the leading greater
Washington D.C.
regional grocery chain and the official grocery store of Monumental Sports & Entertainment, has partnered with several innovative brands during the inaugural season of Wizard District Gaming and th.....
...Read More »
Nine-Year-Old Chuck Smolka Wins Dramatic Final To Claim First-Ever MLB VR Home Run Derby Tournament
WASHINGTON
,
July 17, 2018
/PRNewswire/ --
Chuck Smolka
, a nine-year-old from
Staten Island, NY
, yesterday won the first-ever MLB Home Run Derby VR Tournament Championship, held as part of GEICO All-Star FanFest. Smolka, one of four kids younger than 12 years old .....
...Read More »
Last-Minute Summer Cultural Getaways in Palm Beach County
LAKE WORTH, Fla.
,
July 17, 2018
/PRNewswire/ -- With summer flying by, those looking for a getaway that's about more than just a beach can find it through the Cultural Council of
Palm Beach County
. The Cultural Council has curated special summer getaway opportunities for travelers including:<.....
...Read More »
DITA Partners With Peter Burling Developing Products That Meet the Demanding Specifications and Lifestyle of a Champion Sailor
LOS ANGELES
,
July 17, 2018
/PRNewswire/ -- DITA. A Category of One. A definition you can't own, you can only achieve. And DITA has achieved over 20 years. Since 1995, DITA has found inspiration in the international circuit of nautical, automotive and aviation design, and the individuals who have pushed boundaries within thes.....
...Read More »
Tenth Annual Food From The Bar Los Angeles Campaign Provides More Than 2 Million Meals For Hungry Children
LOS ANGELES
, July 17, 2018 /PRNewswire-USNewswire/ -- The
Los Angeles
legal community raised more than
$500,000
for the Los Angeles Regional Food Bank this year during the 10
th
Annual
Food From The Bar
Campaign. The Food Bank will use these funds to provide more than 2 millio.....
...Read More »
The9 Limited Announces Receipt of Nasdaq Notice of Deficiency
SHANGHAI
,
July 17, 2018
/PRNewswire/ -- The9 Limited (Nasdaq: NCTY) ("The9" or the "Company"), an established Internet company, today announced that it received a notification letter from the Listing Qualifications Department of The Nasdaq Stock Market, Inc. ("Nasdaq") dated
July 16, 2018
indicat.....
...Read More »
New Memoir, 'Waging Justice' Details One Doctor's Life, his Fight for Justice
BETHESDA, Md. (PRWEB) July 17, 2018
...Read More »

Moringa Wellness promotes healthy eating habits through De Beers youth soccer sponsorship to IBERCUP 2018
BOCA RATON, Fla.
,
July 17, 2018
/PRNewswire/ --
Moringa Wellness
in support of a healthy and active lifestyle sponsors De Beers Football Club, a South African youth soccer team, helping them attend the
...Read More »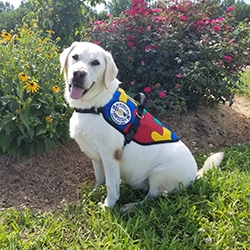 Custom-Trained Autism Service Dog to Help 7-Year-Old Girl in Riva, MD
A 7-year-old little girl in Riva, MD named Caroline received a very special delivery of her very own Autism Service Dog from Service Dogs by Warren Retrievers, also known as "SDWR."
...Read More »
SYC moving Shanghai towards the world and towards the future with Shanghai Cup competition
...Read More »