Plexus Technology Group Joins Codonics at the ASHP Midyear 2016 to Present Their Anesthesia EMR and Medication Management System
JACKSON, Mich.
,
Dec. 1, 2016
/PRNewswire/ -- 
Plexus Technology Group, LLC
(Plexus TG), a fully KLAS-rated, market-leading, best-of-breed provider of anesthesia information management systems (AIMS), is pleased to announce they will be exhibiting at the
...Read More »
IoT Institute Unveils the IoT Emerge Podcast
SAN FRANCISCO
,
Dec. 1, 2016
/PRNewswire/ -- 
IoT Emerge
, a new event that targets the opportunities and challenges posed by IoT devices, platforms and services, presented by the
IoT Institute
.....
...Read More »
Allied Pixel produces second live webcast for the European Union Delegation
Allied Pixel is a digital studio specializing in video production, web development and webcasting. We bring a unique blend of creative and technical capabilities to clients across a range of industries.
...Read More »
Source Digital Announces SourceSync.io For Connecting Smart Content with Viewers on Any Platform and Device
Source Digital, a leading technology product and service provider specializing in digital platform monetization strategies, today announced its SourceSync.io(tm) platform that connects personalization, smart content with omni-screen use. The platform allows viewers to intuitively and instantly access and discover related experiences while viewing programming on any device - smart phone, tablet, computer and traditional TV.
...Read More »
From Universal Pictures Home Entertainment: MAX STEEL
UNIVERSAL CITY, Calif.

,

Dec. 1, 2016

/PRNewswire/ -- The popular Mattel property and animated series comes to life when a young boy discovers extraordinary hidden powers and, with the help of a new unlikely friend, must embark on a mysterious mission in

Max Steel

.

 With its arrival.....

...Read More »
Australian DevOps business to open office in US in 2017
MELBOURNE, Australia
, Dec. 1, 2016 /PRNewswire/ -- Australian cloud operations and management company base2Services will open an office in the US in mid-2017 to capitalize on the growing number of clients it is attracting from
North America
.
...Read More »
Twist's Matt Pittroff Takes Viewers on a Vacation For Hilton HHonors & Visa's Latest Campaign Starring Judy Greer
Hilton HHonors and Visa teamed on their newest campaign, starring Judy Greer. Directed by Twist's Matt Pittroff for ad agency HZDG, the new three-spot campaign encourages viewers to skip the stress of vacation planning and make lounging by the pool their first priority.
...Read More »
Zylight To Host Open House, Announces Holiday Rebates
Open house will take place on Dec. 7 from 6-9 p.m. at the company's offices in Los Angeles
...Read More »
Traditional production methods can't meet increased demand for video content
Television and video professionals don't have time to learn how to use the advanced technology that the industry has traditionally relied on, according to a recent survey by Forbidden Technologies, makers of cloud video platform, Forscene.
...Read More »
The Conference Forum Brings "Patients as Partners" Program to Europe
New York, NY (PRWEB UK) 1 December 2016
...Read More »

EditShare Lands at Beach House Pictures in Singapore
Basingstoke, UK (PRWEB) December 01, 2016
...Read More »

Immuno-Oncology: A 360° View in NYC this February
New York, NY (PRWEB) December 01, 2016
...Read More »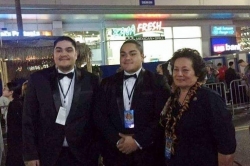 Pacific Islander Royalty and Dignitaries Praise Disney's Moana
Prince Tungi and Prince Ethan who are of Tongan and Samoan royalty shares their thoughts on Disney's Moana after attending the world premiere in Hollywood.
...Read More »
Localeur Doubles Team, Introduces New Advisory Board
AUSTIN, Texas
,
Dec. 1, 2016
/PRNewswire/ -- Localeur, a community of locals who share their favorite places to eat, drink and play with millennial travelers, today announced three new hires and a new class of Advisory Board members aimed at helping the company expand rapidly in 2017. After securing its first-ever equity finan.....
...Read More »
What Will Retirement Look Like Under a Trump Presidency? Income for Life Discusses Changes Americans Should Prepare For
(PRWEB) December 01, 2016
...Read More »

AdoramaTV's 'Through The Lens' Season Three Takes Viewers to Japan and Hong Kong
Adorama, one of the world's largest photography, video, audio, imaging and electronics retailers, has announced that season three of its uber popular online docu-series, 'Through The Lens' ('TTL'), will premiere on Friday, December 2, 2016 online on AdoramaTV.
...Read More »
Spectra by Comcast Spectacor Partners with ANC to Design and Integrate New Center-Hung Scoreboard at Cross Insurance Arena
Portland, Maine (PRWEB) December 01, 2016
...Read More »

FANDANGO ACQUIRES CINEPAPAYA, TOP LATIN AMERICAN ONLINE MOVIE TICKETER, EXPANDING FANDANGO'S BUSINESS IN THE REGION TO MEXICO, ARGENTINA, COLOMBIA, PERU, CHILE, ECUADOR AND BOLIVIA
LOS ANGELES
and
LIMA, Peru
,
Dec. 1, 2016
/PRNewswire/ -- Fandango, the leading digital network for all things movies in the U.S., announced today it is expanding its business in
Latin America
, one of the fastest-growing global film markets, with the acquisition.....
...Read More »
AMD And Alienware Team Up With The New Film "ASSASSIN'S CREED" To Create A Movie Virtual Reality Experience
Spectralink Launches New Camera/Barcode Scanner for the PIVOT Enterprise Smartphone
BOULDER, Colo.
,
Dec. 1, 2016
/PRNewswire/ -- 
Spectralink Corporation
, the global leader in enterprise mobility solutions for the healthcare, retail, manufacturing and hospitality industries, today launched a new dual-mode camera/barcode scanner for its P.....
...Read More »