7 Tips for Choosing the Best Corrugated Compression Unitizer
Hazle Township, PA (PRWEB) August 27, 2015
...Read More »

Appnext Announces Native Video Ad Solution To Fuel App Discovery Globally
LONDON
,
Aug. 27, 2015
/PRNewswire/ --
Appnext
, the leading app monetization and distribution platform, today announced the launch of its native video ad solution, allowing app publishers to integrate and distribute beautiful, contextually relevant app traile.....
...Read More »
Global Video Streaming Outside The Firewall Market Is Expected To Reach $5.8 Billion by 2018: Acute Market Reports
The 2012 study has 414 pages, 119 tables and figures. Worldwide markets are poised to achieve outstanding growth as people look for video content online and enterprises...
...Read More »
VBrick® Adds Native Adobe Flash Multicasting Capabilities to its Rev® Enterprise Video Platform
HERNDON, VA (PRWEB) August 27, 2015
...Read More »

Sam Smith Takes the World By Storm With SSL Live
British pop/soul phenomenon Sam Smith's debut album, In the Lonely Hour, was one of the biggest of 2014, yielding three number one songs, three top 10 hits and six Grammy Award nominations - with wins in the Record of the Year, Song of the Year, Best New Artist and Best Pop Vocal Album categories. Adding dual Brit Awards for British Breakthrough Act and Brits Global Success to his recent accolades, Sam spent the first half of 2015 on a whirlwind worldwide tour. Looking for a console that would best withstand the intensity of the tour while also supporting the singer's unique sound, Sam's FOH engineer Simon Thomas selected an SSL Live. L500 console supplied by Clair Global.
...Read More »
Blackmagic Design Announces Fusion 8 Public Beta is Available Now for Download
Blackmagic Design today announced the public beta of the free version of Fusion 8, the world's most advanced visual effects and motion graphics software, is now available for download from the Blackmagic Design website. This beta is for the free version of Fusion 8 and is available for both Mac OS X and Windows.
...Read More »
Subaru Announces Pricing On 2016 BRZ Models
Scottish Company Set to Light Up Film Industry
H.E. Orr Plant Expansion Expands Production Capacities and Reduces Lead Times for its Growing Automotive Customer Base
PAULDING, Ohio
,
Aug. 27, 2015
/PRNewswire/ --
Herbert E. Orr Company
announced today the completion of a 12,000 square foot expansion of its manufacturing headquarters in
Paulding, Ohio
. The 20 percent expansion enhances the e.....
...Read More »
Avid Everywhere Brings Top Creative Film Talent to IBC
BURLINGTON, Mass., Aug. 27, 2015 (GLOBE NEWSWIRE) -- Avid® (Nasdaq:AVID) today announced guest speakers who will present at the Avid booth (#7.J20) at IBC 2015 which takes place in Amsterdam from September 11-15, 2015. Editor Barney Pilling, who cut The Grand Budapest Hotel, and supervising sound editor/sound designer James Mather, who worked on Mission: Impossible – Rogue Nation, w...
...Read More »
Cineplex Battles Back-to-School Blues with Tuesday Pricing All Week Long
TORONTO, ONTARIO -- (Marketwired) -- 08/27/15 -- Cineplex Entertainment (TSX: CGX)- Summer holidays may be coming to an end, but the fun continues at Cineplex theatres nationwide with a week of reduced pricing traditionally offered only on Tuesdays. Cineplex Tuesdays have become a highly anticipated night out for Canadian moviegoers, allowing them to enjoy blockbuster fi.....
...Read More »
IEEE ICC 2016 to Explore "Communications for All Things" 23 - 27 May in Kuala Lumpur, Malaysia
NEW YORK
,
Aug. 27, 2015
/PRNewswire/ -- The IEEE International Conference on Communications (ICC 2016) will hold its next premier international event
May 23 - 27
in
Kuala Lumpur
, a rising hub of economic and social innovations as well as the cultural, financial .....
...Read More »
LRAD(R) Corporation Receives ONE VOICE(TM) Orders for Mass Notification and Facility Security
SAN DIEGO, Aug. 27, 2015 (GLOBE NEWSWIRE) -- LRAD Corporation (NASDAQ:LRAD), the world's leading provider of Long Range Acoustic Devices® and advanced ONE VOICE mass notification systems, today announced mass notification orders for a public utility in Texas and a Department of Energy renewable energy facility in Colorado. The orders total $310,000 and include LRAD 360X dual and quad e...
...Read More »
MSDSonline Outlines OSHA HazCom and GHS Compliance Deadlines at AHMP Annual Conference
CHICAGO, Aug. 27, 2015 (GLOBE NEWSWIRE) -- MSDSonline, the leading provider of cloud environmental, health and safety (EHS) solutions, will share recent updates on OSHA's alignment to the Globally Harmonized System (GHS) with attendees at the Alliance of Hazardous Materials Professionals (AHMP) 2015 National Conference. Chuck Haling, MSDSonline vice president of sales and one of the industr...
...Read More »
New Camera App infltr Turns Mobile Photography On Its Head with Over Five Million Filters
London, UK (PRWEB) August 27, 2015
...Read More »

Announcing a New FCPX Plugin, ProGeo Refraction from Pixel Film Studios.
Aliso Viejo, CA (PRWEB) August 27, 2015
...Read More »

Globecast enhances channel monitoring with Actus
TEL-AVIV, Israel
,
Aug. 27, 2015
/PRNewswire/ --
Actus Digital, a developer of web-based broadcast monitoring platforms for content analysis, media monitoring and cross-platform content repurposing, announced today that Globecast has in.....

...Read More »



The Fisher Brothers Release 2 New Albums on the Heels of Dreamboat Annies 40th Anniversary
Seattle, WA (PRWEB) August 27, 2015
...Read More »

Andy Ahern Featured on CFF Nation to Discuss Preparing to Sell a Business in Third Installment of Popular Series
Phoenix, AZ (PRWEB) August 27, 2015
...Read More »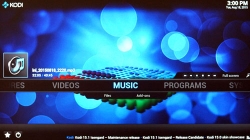 ALi Introduces Innovative Set-Top Box Plus Sound Bar Application, Driving Premium Quality Streaming Music Experience
ALi Corporation introduced a pioneering application of its chipset product - DVB set-top box with sound bar. The innovation features ALi's STB chipset supporting DVB-C/T2/S2 and IPTV video streaming and combines the capability of premium-quality streaming music delivery to bring an ultimate home entertainment experience.
...Read More »