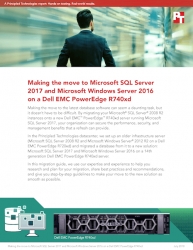 Principled Technologies Releases Migration Guide: Making the Move to Microsoft SQL Server 2017 and Microsoft Windows Server 2016 on a Dell EMC PowerEdge R740xd
Principled Technologies datacenter experts demonstrated how to migrate a database to Microsoft SQL Server 2017 and Windows Server 2016 on a Dell EMC PowerEdge R740xd server.
...Read More »
Fast Search of Damaged or Deleted Files Using DiskInternals Recovery Tools
Today, DiskInternals Research has launched an update for its data recovery software, including RAID Recovery™, Partition Recovery™, VMFS Recovery™, Flash Recovery™, EFS...
...Read More »
GIGABYTE™ Announces Availability of Density Optimized 2U 4-Node H261 Series Server Platforms Powered by Cavium™ ThunderX2 Processors
TAIPEI, Taiwan
,
June 4, 2018
/PRNewswire/ -- GIGABYTE, an industry leader in high-performance server hardware, and Cavium™, Inc. (NASDAQ: CAVM), a leading provider of semiconductor products that enable intelligent processing for enterprise, data center, cloud, wired and wireless networking, have announced the availability of .....
...Read More »
Mimo Monitors To Launch Their First HDMI Capture Card at InfoComm 2018
CHICAGO, June 4, 2018 /PRNewswire/ -- 
Mimo Monitors
(
www.MimoMonitors.com
), the experts in small touchscreen displays, announced today that they are launching their brand new stand alone HDMI Capture Card, the first for the company, at InfoCo.....
...Read More »
Magewell to Showcase Ground-Breaking Video I/O and Streaming Innovations at InfoComm 2018
NANJING
,
China
,
May 14, 2018
/PRNewswire/ -- Hot on the heels of its award-winning NAB Show exhibit,
Magewell
is coming to InfoComm 2018 with its broadest and deepest product range yet. The centerpiece of the company's Info.....
...Read More »
Magewell Capture Cards Enable 'Support-Free' Video Connectivity for West Pond Enterprises
NANJING
,
China
,
May 2, 2018
/PRNewswire/ -- Needing a reliable capture card in a Mini PCI Express form factor for the company's latest television headend product,
West Pond Enterprises
selected the
...Read More »
Blackmagic Design Announces New Cintel Scanner 2
Blackmagic Design today announced Cintel Scanner 2, a new second generation model of its popular real-time film scanner. Cintel Scanner 2 features the incredible speed of Thunderbolt 3 and PCIe host computer connections, as well as a new skid plate for 35 mm HDR film scanning and timecode output. The new Cintel Scanner 2 will be available in June for US$29,995 from Blackmagic Design resellers worldwide.
...Read More »
Dell and Alienware Revitalize Portfolio of Performance Gaming Laptops and Augment Esports Involvement with New Partnerships
Cryptshare 4.0: More convenience and security, less shadow IT
German software provider Befine Solutions has comprehensively reengineered its communication solution Cryptshare to help solve this. It now seamlessly combines both security and ease-of-use on mobile devices.
...Read More »
Magewell to Expand Video Interface Offerings at 2018 NAB Show
NANJING
,
China
,
Feb. 21, 2018
/PRNewswire/ -- Building on the momentum from the company's highly-successful ISE presence in
Europe
earlier this month,
Magewell
will bring its growing range o.....
...Read More »
Modeling Software Market (ADOBE, ALTAIR, AUTODESK, CNC Software, Comsol) Dynamics & Future Demands with Production, Cost Structure and Manufacturing Process
Encryption Software Market - Overview
Encryption software signifies the set of instruction based software that impl...
...Read More »
Aphelion Orbitals Launches Cubesat Store, Updates Low-Cost Launcher Development Progress
TITUSVILLE, Fla.
, Oct. 6, 2017 /PRNewswire/ -- Aphelion Orbitals, Inc., an innovative launch services and spacecraft component manufacturer, is pleased to announce significant progress toward the company's goal of becoming the premier supplier of reliable, low-cost small satellite hardware and launch services.
...Read More »
Etherparty Inks New Deal to Bring FUEL to Jaxx Wallet Users
VANCOUVER
,
Sept. 28, 2017
/PRNewswire/ - User-friendly, smart contract creation tool Etherparty has announced a new partnership with Jaxx that will help bring smart contracts to the masses. This exciting partnership occurs just days before Etherparty FUEL tokens go on sale to the public on
Sunday, Oct. .....

...Read More »



Chromotif Announces Nebeula, The First Multi-Hybrid Cloud Desktop And Application Delivery Platform-as-a-Service
SANTA CLARA, Calif.
,
Sept. 13, 2017
/PRNewswire/ -- Chromotif today announced the availability of Nebeula, an elastic multi/hybrid cloud Platform-as-a-Service for application and desktop delivery, on
...Read More »
Technologic Systems Introduces BACnet to their Industrial Single Board Computer, the TS-7680
Fountain Hills, AZ (PRWEB) August 31, 2017
...Read More »

Jaxx to Be Official Wallet of Po.et's Token in New Partnership Announcement
TORONTO
,
Aug. 7, 2017
/PRNewswire/ -- Decentral, creators of the Jaxx blockchain wallet, today announced a new partnership with Po.et, the digital media publishing platform launching its token sale on
August 8, 2017
. Jaxx will be the official wallet and will integrate the Ethereum-based Po.et tok.....
...Read More »