MTI Film Provides Some Spark for Indie Thriller "How the Light Gets In"
MTI film recently provided a package of post-production services for How the Light Gets In, a cerebral crime drama about a New York City detective, under investigation for his involvement in a suspicious shooting. The independent film marks the feature directorial debut for Steven Fierberg, ASC, well known for his work as a cinematographer on such shows as The Affair and Entourage.
...Read More »
Sony Launches New 4K Resolution Functional Camera Blocks with 30x Equivalent Optical Zoom
SAN DIEGO
,
April 17, 2018
/PRNewswire/ -- Sony Electronics Inc. today launched two new industrial 4K (3,840 x 2160; QFHD)/30p Functional Camera Blocks. The new FCB-ER8550 and FCB-ER8530 products feature Sony's unique Super Resolution Zoom (SRZ) technology, which enables both camera blocks to deliver an equivalent of 30x opti.....
...Read More »
AsReader CAMERA Type Released
AsReader Europe B.V. announces its newest product today, "AsReader CAMERA Type," a new, International Patent-pending solution, with a combination of next-gen software and a hardware laser-pointer that will alter the world of barcode scanning forever.
...Read More »
Lorex Technology Launches Exclusive 2k HD MPX 8 Camera Security System Give-a-Way
The company is giving away three wire-free security camera systems each day for a month.
...Read More »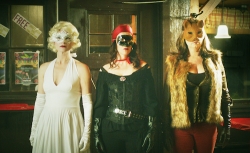 Lady Hunters Announces Back-to-Back World and NYC Premieres
The dramatic dark comedy film about three moms who become a vigilante death squad premieres in Kansas City and New York City. "Once upon a time, three mothers killed a wolf."
...Read More »
Bausch + Lomb to Showcase New Scientific Data During the Annual Meeting of the American Society of Cataract and Refractive Surgery
More than 20 Podium Presentations, Posters and Films to be Featured
...Read More »
1920s Tijuana Project Wraps Principal Photography
"Tijuana" was filmed in Sierra Madre, Los Angeles, and Lancaster, California, and after a very challenging schedule, recently wrapped principal photography. Currently t...
...Read More »
From Universal Pictures Home Entertainment: "Thoroughbreds"
UNIVERSAL CITY, Calif.
,
April 10, 2018
/PRNewswire/ -- Privileged teens, Lily and Amanda, rekindle their childhood friendship and secretly develop a shocking plan that nobody sees coming in the incredibly smart and suspenseful thriller,
Thoroughbreds
, arriving on Digital and the all-new digital movie app MOVIES .....
...Read More »
Three Students Take Their Education to the Next Level in Roadtrip Nation's New Documentary 'One Step Closer'
COSTA MESA, Calif. (PRWEB) April 06, 2018
...Read More »

NAB 2018: FUJINON Speaker Series Features Top DP's, Industry Tech and Production Professionals
The Optical Devices Division of FUJIFILM will continue its popular speaker series during the NAB convention, featuring some of the industry's top network camera operators, engineers and optical professionals.
...Read More »
Millenium DXL2 Camera From Panavision Makes NAB Debut
Panavision, the motion picture industry ??s most respected designer, manufacturer and provider of state-of-the-art cinema lenses, high-precision camera systems and innovative post production technologies, will showcase its Millennium DXL2 8K camera at the National Association of Broadcasters (NAB) Show, which runs April 7-12 in Las Vegas.
...Read More »
Nikon And MRMC Display Innovative Capture Solutions At NAB 2018
LAS VEGAS
, April 5, 2018 /PRNewswire/ --
 NAB BOOTH #C6019 -- 
Nikon Inc. and MRMC, a Nikon Group company, are inviting attendees of the 2018 NAB tradeshow to visit their booth and experience the latest innovations in digital imaging, robotics and automated image capture solutions. The booth will feature the new Nikon D850 Filmmaker'.....
...Read More »
Canon U.S.A. To Debut Newest Cinema And Broadcast Products At This Year's NAB Show
MELVILLE, N.Y.
,
April 4, 2018
/PRNewswire/ -- At the 2018 National Association of Broadcasters (NAB) Show in
Las Vegas
, Canon
U.S.A.
, Inc., a leader in digital imaging solutions, will unveil its newest cinema and broadcast products on in booth #C4325. Among the.....
...Read More »
Ithra Showcases Visual Arts And Saudi Culture At Linwood Dunn Theater In The Heart Of Hollywood
LOS ANGELES
,
April 2, 2018
/PRNewswire/ -- Ithra, also known as the King Abdulaziz Center for World Culture, an initiative by Saudi Aramco, is hosting a three-day and night event at the Linwood Dunn Theater for the public to immerse themselves in the visual arts and culture of the
Kingdom of Saudi Ar.....

...Read More »



Hilco Industrial and Tiger Group to Sell the Motion Picture Camera Equipment Formerly Owned by Clairmont Camera
LOS ANGELES
,
March 28, 2018
/PRNewswire/ -- Hilco Industrial, in a joint venture with Tiger Group, announced today that they are selling the assets formerly owned by
Clairmont Camera
and Keslow Camera.  In 2017, Keslow Camera - the largest privately held motion picture camera equipment rental ho.....
...Read More »
Canon U.S.A. Expands EF Cinema Lens Lineup With New 20mm Prime Lens For 4K Cameras
MELVILLE, N.Y.
,
March 28, 2018
/PRNewswire/ -- Canon
U.S.A.
Inc., a leader in digital imaging solutions, today announced the launch of a new addition to the Cinema EOS System: the CN-E20mm T1.5 L F lens - a full-manual 20mm Cinema Prime Lens for EF Mount cameras. A popular focal length, the 20.....
...Read More »
New Camera Angles Give Teams The Competitive Advantage: MRMC Debuts New Range Of Tracking Technology And Solutions Ahead Of NAB 2018
MELVILLE, N.Y.
,
March 28, 2018
/PRNewswire/ -- Experts in camera robotics, MRMC, a Nikon company, announced today a variety of automated image capture solutions that will debut at the NAB 2018 tradeshow. These new offerings provide more angles and creative control of image and video capture at sports venues, providing cost ef.....
...Read More »
Introducing Canon's First Full-frame Cinema Camera, The EOS C700 FF
MELVILLE, N.Y.
,
March 28, 2018
/PRNewswire/ -- Canon
U.S.A.
Inc., a leader in digital imaging solutions, is excited to announce the EOS C700 FF, the Company's first full-frame cinema camera.  The beauty and majesty of full-frame digital cinema is now becoming a new creative reality. Since the.....
...Read More »
Sigma ??s Distinctive Cinema, VR and Sony E-Mount Lenses Capture NAB 2018
The breakthrough, multi award-winning full-frame and S35 Cine lenses return to the NAB show; Brand new Sigma VR and Sony E-Mount lens options shown at booth C10308
...Read More »