New ZEISS ROTOS Roughness Sensor Increases Measuring Efficiency
MAPLE GROVE, Minn.
,
May 1, 2018
/PRNewswire/ -- The new ZEISS ROTOS roughness sensor enables the use of coordinate measuring machines to completely inspect surface waviness and roughness – even on complex workpieces, and all in a single measurement run without any reclamping. This cutting-edge innovation simplifies and speeds.....
...Read More »
olloclip Introduces All-New Mobile Lens System for iPhone X
FOOTHILL RANCH, Calif.
,
May 1, 2018
/PRNewswire/ --
olloclip® today announced an all-new mobile lens system designed exclusively for
iPhone X
. With premium multi-element glass optics, the lenses allow iPhone users to enhance th.....
...Read More »
Hatch is Back! All-New 2019 Toyota Corolla Hatchback Wows with Loads of Style, Dynamic Performance, and Technology
DEL MAR, Calif.
,
April 30, 2018
/PRNewswire/ -- Toyota's newest, stylish, and most technologically-advanced small car, the all-new 2019 Corolla Hatchback, takes to the streets on the coast of
San Diego County
. Yup, the Hatch is back!
...Read More »
Johnson & Johnson Vision Highlights New Data at 2018 Association for Research in Vision and Ophthalmology Annual Meeting
JACKSONVILLE, Fla.
and
SANTA ANA, Calif.
,
April 25, 2018
/PRNewswire/ -- Johnson & Johnson Vision, a broad-based global leader in vision, today announced that a suite of new research from its eye health portfolio will be presented at the 2018 Association for Research in Vision and Ophthalm.....
...Read More »
From Pan Entertainment to Neo-Culture Creativity, Tencent's Upgraded Direction for Content to Enhance Digital Culture Together with International Parties
BEIJING
,
April 24, 2018
/PRNewswire/ -- Tencent kicked off the UP2018 Conference, Tencent's first Neo-Culture Creativity Eco-Conference, at the China National Convention Center in
Beijing
yesterday. Celebrating the passion behind quality content under the theme "With Love We Create", the two-.....
...Read More »
Henry's launches The Lens - a new take on the Canadian photography & video creator magazine
Rogers Media partnership helps Henry's share inspiration and information with content creators across Canada ...Read More »

MTI Film Provides Some Spark for Indie Thriller "How the Light Gets In"
MTI film recently provided a package of post-production services for How the Light Gets In, a cerebral crime drama about a New York City detective, under investigation for his involvement in a suspicious shooting. The independent film marks the feature directorial debut for Steven Fierberg, ASC, well known for his work as a cinematographer on such shows as The Affair and Entourage.
...Read More »
Sony Launches New 4K Resolution Functional Camera Blocks with 30x Equivalent Optical Zoom
SAN DIEGO
,
April 17, 2018
/PRNewswire/ -- Sony Electronics Inc. today launched two new industrial 4K (3,840 x 2160; QFHD)/30p Functional Camera Blocks. The new FCB-ER8550 and FCB-ER8530 products feature Sony's unique Super Resolution Zoom (SRZ) technology, which enables both camera blocks to deliver an equivalent of 30x opti.....
...Read More »
AsReader CAMERA Type Released
AsReader Europe B.V. announces its newest product today, "AsReader CAMERA Type," a new, International Patent-pending solution, with a combination of next-gen software and a hardware laser-pointer that will alter the world of barcode scanning forever.
...Read More »
Lorex Technology Launches Exclusive 2k HD MPX 8 Camera Security System Give-a-Way
The company is giving away three wire-free security camera systems each day for a month.
...Read More »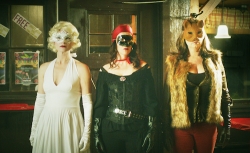 Lady Hunters Announces Back-to-Back World and NYC Premieres
The dramatic dark comedy film about three moms who become a vigilante death squad premieres in Kansas City and New York City. "Once upon a time, three mothers killed a wolf."
...Read More »
Bausch + Lomb to Showcase New Scientific Data During the Annual Meeting of the American Society of Cataract and Refractive Surgery
More than 20 Podium Presentations, Posters and Films to be Featured
...Read More »
1920s Tijuana Project Wraps Principal Photography
"Tijuana" was filmed in Sierra Madre, Los Angeles, and Lancaster, California, and after a very challenging schedule, recently wrapped principal photography. Currently t...
...Read More »
From Universal Pictures Home Entertainment: "Thoroughbreds"
UNIVERSAL CITY, Calif.
,
April 10, 2018
/PRNewswire/ -- Privileged teens, Lily and Amanda, rekindle their childhood friendship and secretly develop a shocking plan that nobody sees coming in the incredibly smart and suspenseful thriller,
Thoroughbreds
, arriving on Digital and the all-new digital movie app MOVIES .....
...Read More »
Three Students Take Their Education to the Next Level in Roadtrip Nation's New Documentary 'One Step Closer'
COSTA MESA, Calif. (PRWEB) April 06, 2018
...Read More »

NAB 2018: FUJINON Speaker Series Features Top DP's, Industry Tech and Production Professionals
The Optical Devices Division of FUJIFILM will continue its popular speaker series during the NAB convention, featuring some of the industry's top network camera operators, engineers and optical professionals.
...Read More »
Millenium DXL2 Camera From Panavision Makes NAB Debut
Panavision, the motion picture industry ??s most respected designer, manufacturer and provider of state-of-the-art cinema lenses, high-precision camera systems and innovative post production technologies, will showcase its Millennium DXL2 8K camera at the National Association of Broadcasters (NAB) Show, which runs April 7-12 in Las Vegas.
...Read More »
Nikon And MRMC Display Innovative Capture Solutions At NAB 2018
LAS VEGAS
, April 5, 2018 /PRNewswire/ --
 NAB BOOTH #C6019 -- 
Nikon Inc. and MRMC, a Nikon Group company, are inviting attendees of the 2018 NAB tradeshow to visit their booth and experience the latest innovations in digital imaging, robotics and automated image capture solutions. The booth will feature the new Nikon D850 Filmmaker'.....
...Read More »
Canon U.S.A. To Debut Newest Cinema And Broadcast Products At This Year's NAB Show
MELVILLE, N.Y.
,
April 4, 2018
/PRNewswire/ -- At the 2018 National Association of Broadcasters (NAB) Show in
Las Vegas
, Canon
U.S.A.
, Inc., a leader in digital imaging solutions, will unveil its newest cinema and broadcast products on in booth #C4325. Among the.....
...Read More »