Ipswitch Messaging Division Spamometer Reports High Costs for Spam
With the Click of a Mouse, the Cost Only Goes Up
(September 03, 2008)

AUGUSTA, GA -- (Marketwire) -- 09/03/08 -- Ipswitch Messaging Division, a leading developer of messaging solutions that provides solid, scalable, standards-based email service, announced today the results of its Spamometer survey indicating the high costs of spam. The cost of spam now runs in the millions as we pay the high price for the spammer to swindle his prey. Anyone with a list of email addresses and internet access can spam millions of people with a single click of the mouse. Spam messages waste employee time, strain the resources of enterprise mail servers, and burden IT administrators. With some 14.5 billion globally produced spam messages per day, some research estimates that spam makes up nearly 87% of global emails. Predictions estimate a monstrous 58 billion junk emails will be sent out within the next four years, costing companies approximately $198 billion annually.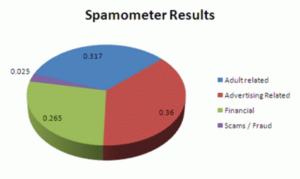 So how much does spam cost your enterprise?
Let us assume for a company of 1,000 employees, each employee receives an average of 40 emails per day. Approximately 60% of those messages are spam related and require about 5 seconds to delete. Just looking at employee productivity, the direct lost annual output per employee averages out to be somewhere around 12.17 hours, and totals nearly 1,521 days of lost productivity for an enterprise. Spam is expected to cost an organization of this size about $549.12 per employee per year.
When a user deletes a spam email, it goes into their trash folder for a period of time, in consequence consuming storage space on a server's hard disks and backup tapes. Spam takes up valuable internet bandwidth that would otherwise be used for legitimate business. The bandwidth consumed means internet connection runs slower, destroying the efficiency of your entire operation as commerce becomes ever more reliant on Internet applications.
If you then calculate the technology expenses associated with spam, the amount of time IT support staff spends combating spam and amount of time wasted by the email servers in processing all the spam emails, anti-spam measures result in an annual price tag for a company this size about $549,120.77.
It's not all about money. As spammers grow in their cleverness, their means of inundating your life with spam continues to grow -- very ingeniously. The trend of phishing has become more widespread as spammers think up new ways to make a buck at your expense. Phishing involves the use of email that is designed to look like a legitimate company has sent it. It is sent out to millions of people in the hope of scamming them into revealing personal information that the spammer can use for identity theft. The cost of phishing and identity theft to victims now also runs in the billions.
Many spammers attach viruses to email and are programmed to give the spammer access to all the vital information stored on computers. A recent report estimated that the cost of repairs and replacement parts for damage caused by viruses has topped nearly $8 million over the past couple of years.
Lost messages and data due to improperly configured filters and blockers that weed out legitimate business correspondence also put a price tag on businesses cost. Presently, it is becoming clear that malware authors, spammers and phishers are learning from each other, and forming various kinds of partnerships such as trading or selling personal email information and mailing lists.
About Ipswitch Messaging Division
Ipswitch IMail Server delivers crucial communication and collaboration tools without the high acquisition and ongoing administrative costs of systems designed for large enterprises. IMail Server provides solid, scalable, standards-based email service with Web-based access and administration. For more information, visit http://www.imailserver.com
About Ipswitch, Inc.
Ipswitch develops and markets innovative IT software that is easy to learn and use. More than 100 million people worldwide use Ipswitch software to monitor their networks with Ipswitch WhatsUp®, transfer files over the Internet using the market leading Ipswitch WS_FTP® Professional client and Ipswitch WS_FTP Server and communicate via Ipswitch IMail Server. To view the IMail Server blog, visit http://blogs.imailserver.com/. For product and sales information, visit http://www.imailserver.com. Ipswitch values community involvement; visit http://icare.ipswitch.com to find out how to become involved.
Image Available: http://www2.marketwire.com/mw/frame_mw?attachid=827224

Add to Digg Bookmark with del.icio.us Add to Newsvine
Media Contacts
Brad Senter
Marketing Manager
Ipswitch, Inc.
706-312-3562
Email Contact
http://www.imailserver.com

Patty Weatherman
Marketing Coordinator
Ipswitch, Inc.
706-312-3580
Email Contact
http://www.imailserver.com


Copyright @ Marketwire
Page: 1
Related Keywords:
spam, email server, Ipswitch, exchange alternative, imail server, security, spam protection, Sales,Applications,Marketing,Sales & Marketing,Storage,Security,Computer Technology,Internet,Software,Misc,Backup,Networks,Security,Administration,Security,Administration,Internet Server Applications,E-mail,Web Servers,Sales,Sales,Marketwire,Internet Technology,Business,Internet,Spam,Email,Other,
Related Sites:
Related Newsletter:
---